Beat Hazard – Having Fun
Had some fun with Beat Hazard again just now.
Awesome.
I enjoyed Survival mode as well today. Mostly played single tracks until now. BLaKe – Amantium.mp3 was awesome (gibts auch zum Download, wird wohl das hier sein).
In the end, I once did a 23minutes run, setting a new (personal) record of course. I succeeded Elite level 4, 5, 6 and 7 in one go (Elite is the highest Rank. Well you have to have played it to know :P). 8 was filled up as well, almost 9.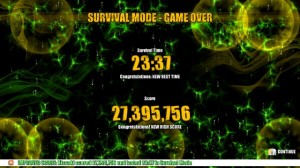 If you did not subscribe me on YouTube and didn't otherwise see it, I uploaded some vids back when I started Beat Hazard (had a longer pause now). Unfortunately, I removed 2 or 3, you can guess why. Those with songs of Hot Bitch Arsenal are still online though. And awesome non-the-less: